BXD

A Solution as a Service
BXD [BeBr.x/Data Analytics Tool] is a fully-serviced, advanced-analytics, software solution for business steering. We gather all data from within the organization, such as customer data, sales data and employee scheduling data, and combine this with data from external sources, like socio-economic data, demographics and customer psychographics. Online successes show that businesses that focus on data, and hereby indirectly implement the scientific approach, have the upper hand in the present competitive market. The BXD finds correlations within the data pools and uses its algorithms to make predictive models. Predictions such as the behavior of customers, sales , investment of resources or marketing funds enable businesses to make fast and precise decisions both fact based and future proof. This optimization process allows for cost reduction and increases return on investments within the organization. The BXD will be customized to the needs and IT-architecture of the business to ensure smooth implementation. It will be optimized to ensure relevancy to the specific dynamics of the operation. For example, If your company has logistics, we implement infrastructure data. The BEBR team offers support during the entire process; from implementation, analysis interpretation to data-collection at all levels of the organization. Precise, specific & real time; that is "The Quantum Approach"
Consultancy
Depending on the company's capacity, we have "one-client dedicated" teams to make sure that we offer the support requested, at all different phases in the process of becoming an omni-channel, data-driven organization.

Software as a Service
For a monthly fee, our supercomputer is working for your company. This allows us to make computationally expensive calculations at high speeds, guaranteeing a real-time performance of the BXD.

[BXD] Features
The BXD features high-end algorithms that find correlations between internal and external data sources and feed this data into our mathematical models. Using advanced multivariate techniques, we can find the factors that are most important in determining the dynamics of your business. The BXD creates natural clusters within the data based on shared features. Customers can be classified according to shared socio-economic status, demographics and psychographics. This gives insight into questions about customer-base and allows for customer-type specific marketing. Likewise, products can be classified according to shared attributes. This gives evidence-based insight on which customer-type is interested in which product-type and what market segments are likely to convert on a certain promotional item. Furthermore, the BXD can create revenue maps that show where customers are located and which neighborhoods have potential for growth in revenue but are currently not sufficiently reached. Such observations lead to better decision making on where to open new stores or where to target advertisement. Data on employees and scheduling can be enriched with personality assessments and data that has been shown to influence shopping behavior, such as by-the-hour weather conditions, economic trends and events. Personality assessments reveal which team compositions are ideal in maximizing sales and by anticipating consumer lulls, unnecessary staff costs can be reduced. Overall, the BXD is focused on the optimization of profit, by increasing revenue and reducing costs. Knowing what the formula for success of your business is, enables you to create a more efficient and successful enterprise. The BXD enables optimized staff deployment, marketing investments, [micro]-targeted sales, product ordering and warehousing, amongst others.

The Process
The [BEBR] team will help your organization through the entire process of becoming a data driven - omni-channel business; from coupling offline and online sales data to understanding the output of the BXD.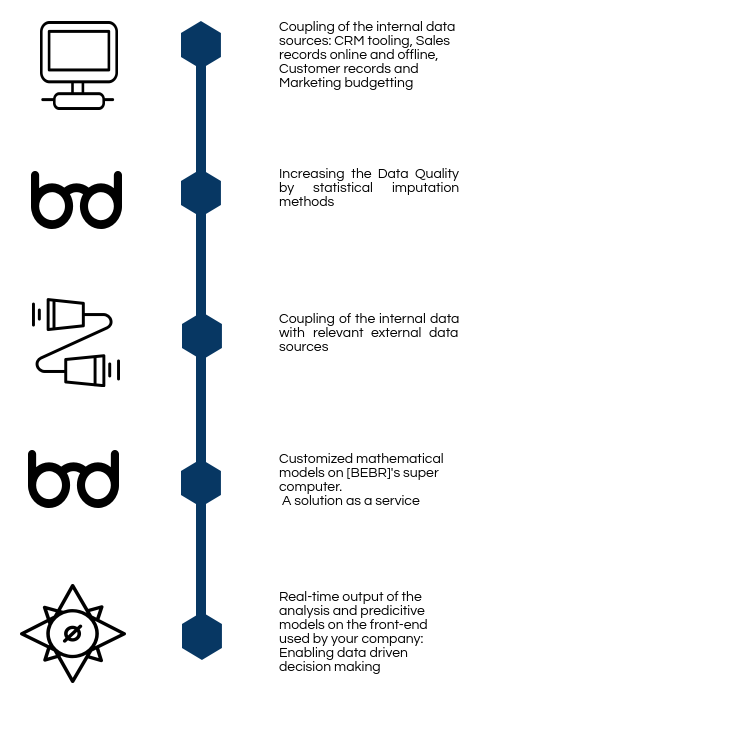 Let's get started!
Free Proof of Concept: We will proof the synergy, No strings attached.
Share data dump of your business
We create a Proof of Concept with the provided data
We present our findings to your team
If you like what you see - Let's get started!
Demo
This project is supported by the 'Europees Fonds voor Regionale Ontwikkeling'. EFRO supports the hiring of a PhD student, who is an expert in statistical analysis and machine learning.