Data Engineering
Fully-serviced, advanced-analytics, software solution for business steering. We gather all data from within the organization, from location and sales data to staff rostering and finance data and combine this with data from external sources, like socio-economic data, demographics and customer psychographics. We provide custom built data sanitation and imputation solutions to help get your data in order! Avoid the well known 'Garbage in, garbage out effect' and ensure the accuracy and competitiveness of your data driven business strategies by making use of BXDs own cutting-edge data preparation, imputation and quality control algorithms. Online successes show that businesses that focus on data, and hereby indirectly implement the scientific approach, have the upper hand in the present competitive market.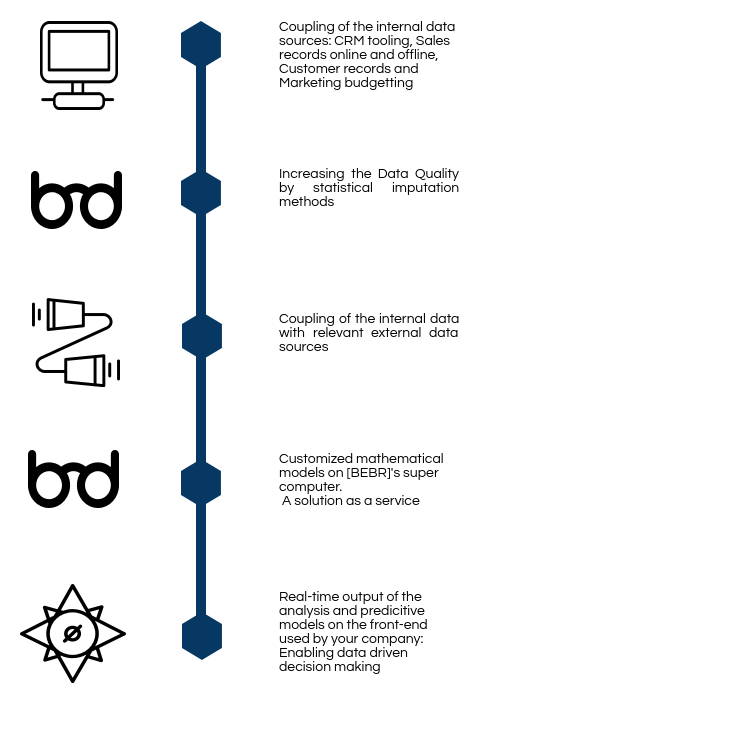 Data lake & Data enhancement
We provide both Data Lake and Data Enhancement services on demand! We combine all internal client data (client risk profiles, transactions, compliance and portfolio data) into a readily accessible, yet secure format. By augmenting and enhancing this data with a wide variety of external data sources (such as commodities, indices, bonds, currencies, geographic data etc.) we create your very own Data Lake. This allows the BXD (and therefore you) to find the most important influences on your business. Explore any data, at any time, from changing neighbourhood demographics to the impact of new exchange rates. Use the data to eliminate guesswork, monitor key metrics, and gain valuable insights into customer behaviour.